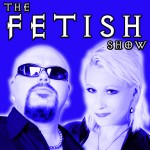 Podcast: Play in new window
| Download
Buck Angel has been featured on the Tyra Banks Show, Spike TV, the Howard Stern Show and now… The Fetish Show.  Dirk Hooper and Princess Zoe spend the entire episode with Buck Angel and talk about sexuality and identity politics.  Among other things the discussion includes repression in America, Buck's performances, British Artist Marc Quinn, Buck's history with a BDSM dungeon, fitness and self-acceptance for everyone.
This interview happened due to the single-minded dedication of Princess Zoe.  Please visit her site, www.theprincesszoe.com.
Thanks to Buck Angel, Elayne Angel, Kitten, Dustin, Alpha Boy Nate for making this episode possible.
Important Links:
BuckAngel.com
BuckAngelEntertainment.com
BuckAngelBodybuilding.com
Always more photos and information on our site: www.TheFetishShow.com
Listener Voice Mail: 1-888-506-0221
info@thefetishshow.com
facebook.com/dirk.hooper
facebook.com/theprincesszoe
Photos and more links coming soon!