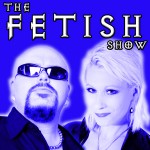 Podcast: Play in new window
| Download
The Dallas Fetish Ball is the backdrop for this episode of The Fetish Show.  Zoe and Dirk take a listener call, comment on the Fetorials.com vote and talk about their trip to the Dallas Fetish Ball.  The Fetish Show news features a story on legalized prostitution in Canada, evil crush fetish videos and the influences of fetish on fashion.  Lillith Grey is the showcase interview.  The Fetish Show Advisor reviews Kat Von D's new book "The Tattoo Chronicles".
http://theFetishShow.com
1-888-506-0221
info@thefetishshow.com
Links, photos and info in this episode below:
Darkfaery Subculture Magazine with The Fetish Show Article
Dirk Hooper and Princess Zoe will be glad to sign the article if you will send a copy of the magazine, and your return address to:
The Fetish Show
PO Box 6027
Moore, OK 73153
Lillith Grey
GirlsGoneGloryhole.com
LillithGrey.com
SexInPower.com
Kat Von D Video for her book "The Tattoo Chronicles"
Plus, go here to see sample pages from "The Tattoo Chronicles".
Fetorials.com Community Policing Poll
Rubber Doll's Official Website
1st Annual West Coast Fetish Ball
New York Rubber Ball and Miss Rubber World 2011