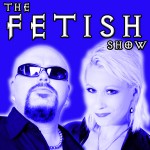 Podcast: Play in new window
| Download
This episode of the Fetish Show features an in-depth interview with author of "The Piercing Bible" Elayne Angel.  Princess Zoe talks about Footnight Dallas, Dirk Hooper talks about his art show in England and his upcoming birthday on May 20th.  In The Fetish Show News we discuss why sex is good for you and why your kinks may not be as unusual as you think.
Site: TheFetishShow.com
Voice Mail Hotline: 1-888-506-0221
eMail: info@thefetishshow.com
Princess Zoe: www.ThePrincessZoe.com
eMail: zoe@thefetishshow.com
Twitter: @theprincesszoe
Dirk Hooper: www.DirkHooper.com
eMail: dirk@thefetishshow.com
Twitter: @dirkhooper
We want to hear from you!
Important Links Mentioned in this episode are below:Elayne Angel
23rd Street Body Piercing
http://www.23rdstreetbodypiercing.com/
Kinky Karnival
Pandora's Box of Fetish and Burlesque in England
http://www.wix.com/mr_hues/pandorasbox
Fetish Factory's 16 Year Anniversary Weekend
http://fetishfactory.com/anniversary/
Fetish Prom