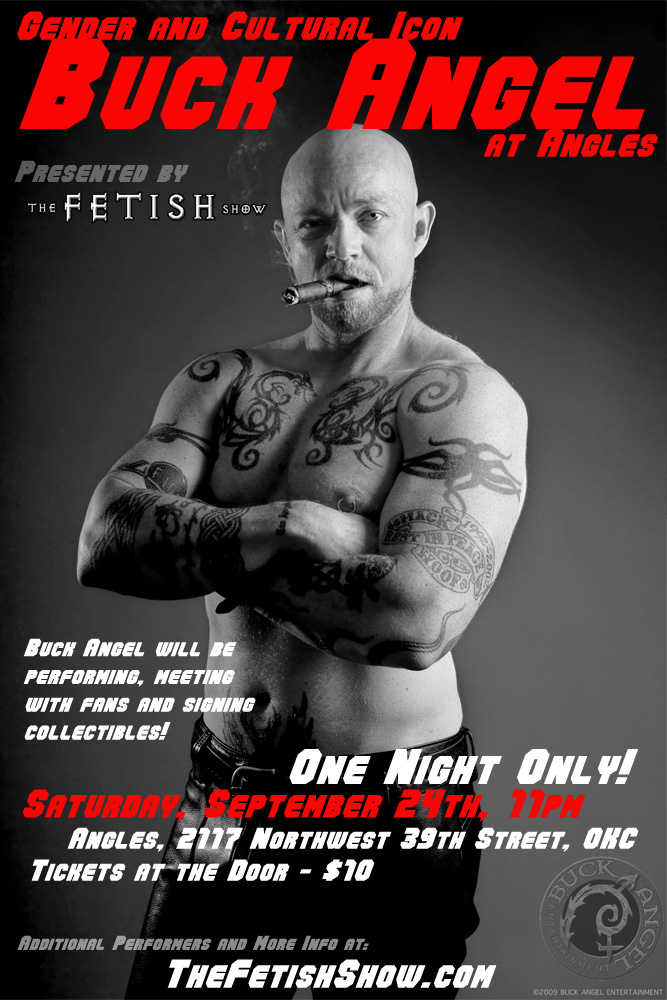 The Fetish Show proudly presents an appearance by gender and cultural icon Buck Angel at Angles, on Saturday, September 24th, 2011.  Buck Angel will be performing and signing autographs for his fans.  The event will also feature a number of acts including burlesque, boylesque, pole-dancing, trapeze and other local acts.
Buck Angel's message of empowerment through self-acceptance and being sexually comfortable in your own skin has struck a passionate cord with people all around the world.  As he demonstrated in his appearance at Yale University and IdeaCity 2010, Buck is not only inspiring people to think outside the box, he is re-defining gender and educating an entire generation on the fluidity of sexuality and identity politics.  Buck has appeared on the Howard Stern Show, Spike TV, Sirius Radio, the Tyra Banks Show and many other media programs.  He's been written about in The Village Voice, Rolling Stone, Time Out, Maxim, the New York Times and other publications around the world.  More information about Buck Angel is available at http://www.BuckAngelEntertainment.com.
"Buck Angel at Angels" will begin at 11pm and run for two hours featuring a headlining performance by Buck Angel, and followed by a special signing, where he will meet with fans.  Angles is located at 2117 Northwest 39th Street, in Oklahoma City.  Tickets at the door will be $10.