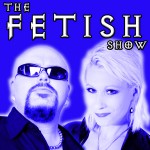 Podcast: Play in new window
| Download
Zoe and Dirk announce the winners of The Fetish Show Tagline Contest, plus talk about Evolution of the Revolution and Dirk's upcoming solo art show.  In The Fetish Show News there is a victory for the BDSM community and two examples of why being kinky might cost you your job.  We have an informative discussion about legal precedent when it comes to BDSM and sex with the new Fetish Show Legal Expert Taylor and we talk about an upcoming event with Buck Angel that's sponsored by The Fetish Show.
Site: TheFetishShow.com
Voice Mail Hotline: 1-888-506-0221
eMail: info@thefetishshow.com
Princess Zoe: www.ThePrincessZoe.com
eMail: zoe@thefetishshow.com
Twitter: @theprincesszoe
Dirk Hooper: www.DirkHooper.com
eMail: dirk@thefetishshow.com
Twitter: @dirkhooper
We want to hear from you!