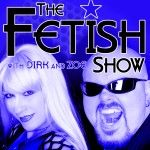 Podcast: Play in new window
| Download
Princess Zoe and Dirk Hooper broadcast before a LIVE audience at the MRP Gallery in Kansas City on October 7th, 2011.  This is opening night of Dirk's Candychrome art show and First Friday in downtown KC!  Besides a discussion on what Zoe North is, we meet several Kansas City luminaries including Dark Stryder, curator/photographer/bondage artist Janet Ryan and bondage artist Manator.  Plus you will meet two new members of The Fetish Show staff – Managing Editor J.A. Grim and Jay of Provocative Images.
Special thanks to the staff of the MRP gallery in Kansas City, plus Warren Lemma, who sponsored the appearance of The Fetish Show and, crew members Zack and George who helped before and throughout the weekend.
See a ton of photos from the show here!
Site: TheFetishShow.com
Voice Mail Hotline: 1-888-506-0221
eMail: info@thefetishshow.com
Princess Zoe: www.ThePrincessZoe.com
eMail: zoe@thefetishshow.com
Twitter: @theprincesszoe
Dirk Hooper: www.DirkHooper.com
eMail: dirk@thefetishshow.com
Twitter: @dirkhooper
We want to hear from you!