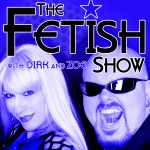 Podcast: Play in new window
| Download
It's the first annual Fetish Show Christmas episode!  Zoe and Dirk bring you suggestions for kinky Christmas gifts, plus a discussion on the difference between BDSM vs. Abuse and we bring you a new segment, WHEEL OF FETISH!
This episode we talk about wet and messy fetish and define what it is.  In The Fetish Show News, city council alderman are cracking down on vendors at sex convention, Spanksgiving and parents protest Sasha Grey reading to elementary school children, and Oscar De La Hoya is the subject of new cross-dressing rumors, plus tales of Bacon Lube, a dress that helps you flirt, and a high class hidden dungeon on New York's Upper East Side.
And Mia Moore and Princess Zoe read the naughtiest Christmas poem you've ever heard, Twas the Night Before Masochistmas.
The Official Fetish Show Kinky Christmas Gift Guide
http://thefetishshow.com/index.php/2011/12/the-official-fetish-show-gift-guide-for-a-kinky-christmas/
Producer: Mia Moore
Recording and Engineering: Colby Stratton for Psych Ward Media LLC
Hosts and Executive Producers: Princess Zoe and Dirk Hooper
Site: TheFetishShow.com
Voice Mail Hotline: 1-888-506-0221
eMail: info@thefetishshow.com
Princess Zoe: www.ThePrincessZoe.com
eMail: zoe@thefetishshow.com
Twitter: @ThePrincessZoe
Dirk Hooper: www.DirkHooper.com, DirkHooper.com is celebrating its 10 year anniversary!
eMail: dirk@thefetishshow.com
Twitter: @DirkHooper
We want to hear from you!