A Review by Dirk Hooper for The Fetish Show
I met the married couple behind Punish Petal at a local Starbucks.  We found each other through Twitter, which is increasingly becoming a treasure-trove of power contacts for me.  Since we were both based in Oklahoma City, it was easy to meet face-to-face and receive the leather collar and Power Flogger for review.
Before I get to the review, I'd like to say a few things about our meeting.  We talked for about an hour about a lot things, including the local BDSM community, advertising, manufacturing and their product ideas for the future.  I can tell you that they take a lot of pride in their work, they make their products by hand and they have some very good ideas about where they want Punish Petal to go.  They have an innovative mindset and maybe, most importantly, they are good people.
I got an opportunity to play-test the two items with a lovely submissive of mine.  I have my own opinions, but I also checked in with her to see what she thought as well.  Both items were in my signature colors of purple and black, but the Punish Petal products come in a wide variety of colors, some of which are very wild.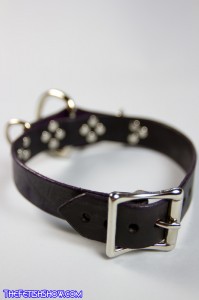 The collar has a unique design, with two D-rings to the sides, and one D-ring in the middle with a dangling O-ring.  The cut of the leather is diamond-shaped to the front and adorned with a number of shiny metal rivets.  The edges are finished and there is a buckle clasp in the back.
This collar has a stiff leather that holds the shape well.  It's the easiest collar I've ever buckled around a submissive's neck.  My submissive remarked that it wasn't as soft as the collar she usually wears.  There's certainly nothing wrong with that.  I think it comes down to your own personal preference, and how the collar is to be used.  I really like the look of this collar, how sturdy it is and all the functional rings.  It's showy, so it would be good in a public setting and I'm definitely going to be using it for photoshoots.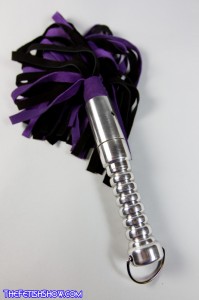 The Power Flogger is something I've never seen before.  The handle of the flogger has an internal precision bearing that spins with the tails.  Punish Petal says that this will help an inexperienced player. I've been throwing a flogger for a decade and a half, so I was very curious about how this new action would affect my technique.  It should be noted that I'm not overly fancy with whip play.  I'm accurate and experienced, and I've had some excellent reviews from submissives, but I won't be taking my act to Broadway.  I was very pleased with the action on this flogger.  It adapted well to my style.  The spinning head was silent and solid.  Frankly, I didn't even realize it was there.
Black and purple suede tails are secured to a lightweight billet aluminum handle, with a D-ring attached at the end.  The handle is very shiny, and I like shiny things.  Pardon my inner geek, but the handle resembles a lightsaber handle.  In fact, if Darth Maul carried a flogger, I'd expect it to look like this.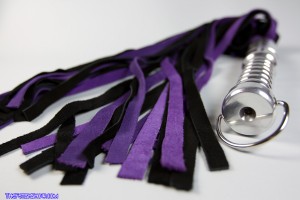 The weight and balance on this flogger is perfect.  The handle feels good in my hand, and there's an added bonus for those of you who are into sensation play.  When I picked up the flogger, I couldn't help but notice that the metal had adopted the chill in the room.  I ran the cool metal handle over my submissive's naked body and got a wonderful reaction.  Don't worry… I warmed her up again.
The handle is hand-turned, the tails are hand-cut and the Punish Petal floggers are assembled one-at-a-time, so every flogger is unique. I was told that the connection between the tails and the handle are literally industrial strength, so I'm looking forward to many years with the Power Flogger.  Most of my toys end up in my fetish photos and the Punish Petal Power Flogger is going to look amazing in some lucky model's hand soon.
If you're interested in either the leather collar or the Power Flogger, the best way to see their current collection is to visit their site on Etsy.com.  You can also visit www.PunishPetal.com and sign up for their mailing list, or join them on Twitter @PunishPetal.  Punish Petal will do custom work as well, so if you don't see what you're looking for then you can contact them to inquire.