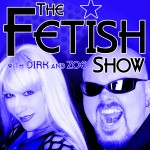 Podcast: Play in new window
| Download
Princess Zoe and Dirk Hooper travel to Albuquerque New Mexico for Evolution of the Revolution 2.  They recount thier experiences at the event, plus their stay at the Hard Rock Hotel and Casino.
Featured interviews in this episode include Vy Johnson with the Leather Library, violet wand expert Dr. Clockwork and Molly from the Self Serve Sexuality Resource Center.
Evolution of the Revolution: http://www.newmexicofetlifers.com/
Carter Johnson Leather Library: http://www.leatherlibrary.org/
Doctor Clockwork: http://www.drclockwork.com/
Self Serve Toys: http://www.selfservetoys.com/store/
Hard Rock Hotel and Casino in Albuquerque: http://www.hardrockcasinoabq.com/
Alan Scott Outlaw Jewelry: http://outlawjewelryrebelleather.com/
Site: TheFetishShow.com
Voice Mail Hotline: 1-888-506-0221
eMail: info@thefetishshow.com
Princess Zoe: www.ThePrincessZoe.com
eMail: zoe@thefetishshow.com
Twitter: @theprincesszoe
Dirk Hooper: www.DirkHooper.com
eMail: dirk@thefetishshow.com
Twitter: @dirkhooper
We want to hear from you!