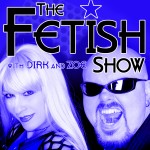 Podcast: Play in new window
| Download
Dirk and Zoe talk about tips for your first time playing in Fetish or BDSM and they interview Canada's most infamous dominatrix, Terri Jean Bedford. Plus, in the news, a Naval Officer is jailed after a spanking incident, Kinking Your Kindle, Rise of the Dommes, and a major court case in the UK changes obscenity laws.
We also mention Dirk's inclusion in the Dirty Show, a major erotic art show in Detroit, running from February 10-18. Check them out here. And a list of the top 100 Sex Bloggers comes out. You can find the list here.
Our website also has a bunch of new content, Tara Buckley writes about BDSM and Marriage, Mia Moore writes a review of the Lelo Lyla, and Dirk meets Punish Petal, a local manufacturer of collars and floggers.
Get in touch with Terri Jean Bedford with these contacts
Websites
http://DominatrixOnTrial.com     (about her book)
http://TerriJeanBedford.com     (about Terri)
http://MadamedeSade.com     (about her court case)
LinkedIn
Twitter
Blog
Facebook
Facebook Fan Page
YouTube
Google +
Email – terrijeanbedford@gmail.com
Fetlife – TerriJeanBedford
Site: TheFetishShow.com Voice Mail Hotline: 1-888-506-0221 eMail: info@thefetishshow.com
Princess Zoe: www.ThePrincessZoe.com eMail: zoe@thefetishshow.com Twitter: @theprincesszoe
Dirk Hooper: www.DirkHooper.com eMail: dirk@thefetishshow.com Twitter: @dirkhooper
We want to hear from you!