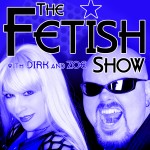 Podcast: Play in new window
| Download
Dirk and Zoe celebrate the Holiday of Love with a jam-packed episode filled with lusts and laughs.  In the Fetish Show News, we talk about the rising popularity of anal sex, the new California laws regarding condoms in Porn, Tebowing Pornstars, and Hollywood's new hot sex movies.
We talk about pegging in our Wheel of Fetish segment and 2 of our staff members, Vanilla Wilson and Kiltguy weigh in with their opinions, an in depth segment about bringing your kinky interests to your partner with Kiltguy and his partner Ragdoll, and TWO giveaways.
Tenga has provided The Fetish Show with 10 Lovers Eggs to giveaway to our loyal listeners and Tantus has also provided the Bend Over Beginner kit interested in trying out pegging. We are giving the Bend Over Beginner kit valued at over $100 to our first caller to our toll-free number, 1-888-506-0221 and email info@thefetishshow.com to have a chance to win a Tenga Lovers egg, which are male masturbation toys.
Tenga's fantastic line of toys for men can be viewed here and bought online at GoodVibrations.com
Tantus amazing line of toys all made in the USA can be purchased online at Tantusinc.com
(Above is a still of Eden Falk, Emily Browning and Rachel Blake from the new fetish movie Sleeping Beauty, which Dirk mentions in The Fetish Show News segment of this episode.)
Production Director: Mia Moore
Engineering: Vanilla Wilson
Executive Producers: Princess Zoe and Dirk Hooper
Site: TheFetishShow.com Voice Mail Hotline: 1-888-506-0221 eMail: info@thefetishshow.com
Princess Zoe: www.ThePrincessZoe.com eMail: zoe@thefetishshow.com Twitter: @theprincesszoe
Dirk Hooper: www.DirkHooper.com eMail: dirk@thefetishshow.com Twitter: @dirkhooper
We want to hear from you!