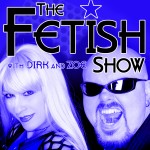 Podcast: Play in new window
| Download
Welcome to The Fetish Show 2.0!  We have all new bumpers and brand spanking new segments in this episode.  Listen to the new sound of The Fetish Show!
On this episode we talk about Wicked Grounds, the Human Library, the new condom law in Los Angeles, a permanent erection, and a man with a dung fetish in The Fetish Show News.
Wheel of Fetish covers Forced-Bi, The Whipping Post has a discussion on Role-Playing and we talk about What Makes a Good Submissive in The Advisor.
New Podcast Imaging from Matt Kemp at: http://kempmusik.com/
Production Director: Mia Moore
Engineering: Vanilla Wilson
Hosts and Executive Producers: Dirk Hooper and Princess Zoe
Site: TheFetishShow.com
Voice Mail Hotline: 1-888-506-0221
eMail: info@thefetishshow.com
Princess Zoe: www.ThePrincessZoe.com
eMail: zoe@thefetishshow.com
Twitter: @theprincesszoe
Dirk Hooper: www.DirkHooper.com
eMail: dirk@thefetishshow.com
Twitter: @dirkhooper
We want to hear from you!