Review of Sick: The Life and Death of Bob Flanagan, Supermasochist by Jasmine St. John
You may or may not know the name Bob Flanagan. Either way I hope this introduction will prove worthy of a deeper look into his open, honest, artistic, and trail blazing personality.
Bob was somewhat of a celebrity within the kink community years ago.  His story is complex but in a nutshell… he was a man that was born with a body at war with him. Yet, he took all of anguish and transformed it into a love affair with masochism and expression. He found that he had the ability to empower himself, if he gave himself over to what he knew from day one. He enjoyed pain.
Beyond all the illness Bob became connected with Sheree Rose. A lifelong romance and slave contract were formed. The two created a life together of art and sexual expression wherever they went…two peas in a pod that manage to balance ideas, feelings, and the range of BDSM play. What they brought to the community, art scene, and individuals inspired and shocked many. They were not just edge players, with a flair for showing off their work, they also were deeply proud of their relationship. It truly was an unstoppable combination.
Until… one day … Bob died. While he lived a full life beyond what anyone would have thought, it still seemed shocking. Bob with his dark sense of humor and realistic approach to life wasn't ready to stop living. This whole journey documented in details over the years through Sheree and Bob's constant photographs and movies.
However, there is more … Kirby Dick (who is known for provocative documentaries) came along and wanted to create a documentary about Bob's life. The work pushed boundaries and received many acclaims. Because beyond whatever one thinks about BDSM it is impossible not to feel the love, depth, and wit of Bob's zest for life.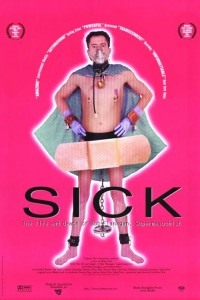 Sick: The Life and Death Of Bob Flanagan Supermasochist is not easy to watch. And perhaps to the surprise of many, what is most difficult to watch is the honest and at time heart-wrenching understanding that Bob and Sheree have about his illness, death, and their relationship. There is an in-depth look at their relationship dynamics and the physical elements as well. However, it is a window inside the reality of their intricately layered lives that exist within a strong and sometimes contentious D/s love.
There is graphic looks at BDSM scenes that are part of the context of the documentary but mostly the viewer has to look and come to terms with their own understanding of the concepts of life, death, and love. And because of that, I recommend that if you have the chance to check out Sick, that you do so.
A favorite poem from Bob exemplifies his authenticity. Here is a snippet:
because I'm sick;
because there was so much sickness;
because I say FUCK THE SICKNESS;
because I like the attention;
because I was alone a lot;
because I was different;
If you want to read the whole poem do so here:
You will find yourself challenged in many areas, which is probably
something that would have brought great joy to Bob Flanagan.
Sick Trailer from Kirby Dick on Vimeo.
—–
Alt Sex Therapist
Jasmine St. John MS, LMFT
JSJ Therapy
Jasmine St. John is a licensed Systems Therapist.  Her focus is working with clients on LGBTQIA and alternative sexuality topics. She has a private practice in Madison, Wisconsin where she sees people from across the nation using a sex-positive, strength-based approach.