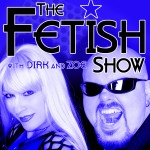 Podcast: Play in new window
| Download
Dirk and Zoe interview burlesque performer and pin-up model Apple Angel.  In the Wheel of Fetish segment we welcome Ryan the boot fetishist.  There's important news about two of The Fetish Show's former guests, Buck Angel and Terri-Jean Bedford.  In The Fetish Show News we talk about PayPal's censorship of BDSM ebooks, a Tokyo massage parlor busted for services below the belt and how Dr. Ruth is a trained sniper and won't treat people within the BDSM lifestyle.
We are also proud to present the world premier of Princess Zoe's original song "It Is So Right"!
Important links for this episode:
Apple Angel
http://www.neontemptress.com/
http://www.tntsizzle.com/
Princess Zoe's Band Site
http://www.archeamusic.com/about/
IAO Biting the Apple 2012
http://iaogallery.org/wordpress/biting-the-apple-21-glam/
Ryan the Boot Fetishist
http://bootofitaly.com/
Kinky Karnival 2012
http://kinkykarnivalks.com
Buck Angel
http://buckangelentertainment.com/
http://www.woodhullalliance.org/
News
Paypal – http://on.msnbc.com/GG3iMi
Dr. Ruth – http://bit.ly/x2ig0L
Tokyo Foot Fetish – http://bit.ly/wyBD6D
Credits and Contact

Production Manager: Summer
Engineering: Vanilla Wilson
Hosts and Executive Producers: Dirk Hooper and Princess Zoe
Site: TheFetishShow.com
Voice Mail Hotline: 1-888-506-0221
eMail: info@thefetishshow.com
Twitter: @TheFetishShow
Facebook: www.facebook.com/TheFetishShow
Princess Zoe: www.ThePrincessZoe.com
eMail: zoe@thefetishshow.com
Twitter: @theprincesszoe
Dirk Hooper: www.DirkHooper.com
eMail: dirk@thefetishshow.com
Twitter: @dirkhooper
We want to hear from you!