Bringing Bumps & Grinds to Sin City
by Apple Angel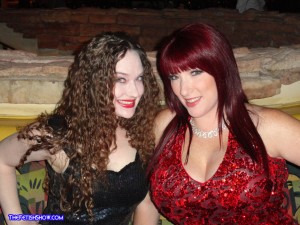 The plane touched down in my favorite American City, Las Vegas, with a slight bump but that was the only bump in my trip to the Burlesque Hall of Fame Weekend at The Orleans.  This was the weekend that everyone in burlesque plans for the day they check out the previous year.  If you're anyone in the community, you are at BHoF!
I took the sultry siren of TnT Burlesque, Eva Aphrodisia, with me this year. She hadn't been before but I knew she would love every minute of it!  I was so right!  We settled into our room and I began unpacking (if you ever travel with me you will probably go nuts with the unpacking immediately upon arrival – even for a simple overnight trip).  She had a screenplay due the following day so I went downstairs to get our tickets & weekend wristbands.  Yes, I travel with sexy, smart girls at all times!
The weekend began on a perfect pitch as I ran into my official Burlesque Crush, Bastard Keith, as I got our show tickets.  He was absolutely lovely and I couldn't be happier to meet him in person.  His gorgeous wife, Madame Rosebud, was more beautiful than her photos (& those were amazing)!  I walked with them down to Big Al's to get check in and get the weekend schedule.
The "Movers, Shakers & Innovators" show was just incredible.  Co-hosted by Blanche DeBris & Mat Fraser, it began with a real BANG from a firemen who had one hell of a pole… He got creative and used the aerial silks as his fireman's pole & ladder to save a helpless kitten.  I was enraptured by all the talent on the stage that night.  Dallas lovelies, Ginger Valentine, & Angi B Lovely, gave wonderful performances with polish and panache.  Dusty Summers did a fantastic magic routine that had Eva & I in awe!  Now, my favorite of the night was Camille 2000.  She my kind of legend!  She's tall, blonde, brassy & brash!  When she came onto the stage in full leather cape and metal studded hood I thought the fetish lover in me would explode!  She owned that stage and had the audience enraptured!  With every turn and move I was more into the routine.  When she ripped the hood off and a shock of gorgeous white blonde hair was shown off, I was done!  When can I meet her!?!  Oh!  She's teaching a class tomorrow! Such is perfection!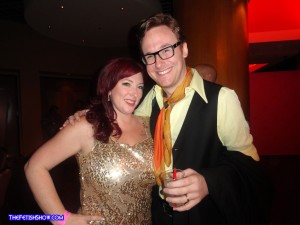 The rest of the show was a blast but my mind was on taking the class that Camille 2000 was teaching tomorrow at 1:30.  I settled down a bit after a few cocktails at the after party.  Seeing Madeline Sinclair again was fabulous and getting a spin around the dance floor from ½ of my favorite producing duo, Diamond Jim of La Divina Productions, made for a great evening!  After a nightcap at Frankie's Tiki Lounge with Coco Lectric, Ruby Joule, Java & Jim, I went to bed around 3 on a lovely, glitter filled burlesque cloud.
A big breakfast in the hotel and then shopping at the Burlesque Bazaar began our Friday fabulously. Glitter eyeliners & lipsticks were the first on our list and Eva & I bought so many that we'll be glitter goddesses for a long time!  Bachelor Pad magazine had a booth and I got to catch up with my editor, Java.  He is always fun to talk with and catching up is always a good time!  Inga Ingenue stopped by the table and it was a pleasure to tell her how gorgeous her performance was the night before!  She's a sweet girl who I would love to work with someday!
We did a little shopping on the Strip (I demolished H&M) and had an early dinner before getting back to The Orleans for the Titans of Tease, Legends Revue.   The stunningly beautiful, World Famous *BOB*, was the host so I knew the evening would be filled with fun and laughs.  She didn't disappoint!  Shannon Doah did one of her classic routines and I was so jealous of her rockin' figure! She is a true beauty!  I also loved Miss Excitement Tammi True!  The stocking tricks that The Untouchable Ellion Ness pulled were incredible!  La Savona was awarded the 2012 Legend of the Year Award.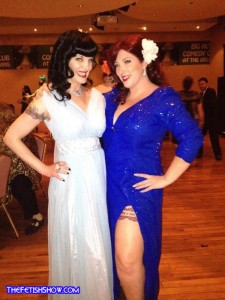 I decided to go to bed at a somewhat decent hour because classes were the next day. I was a bundle of excitement and nerves about getting to see Camille 2000 again.  She was so inspirational to me.  I was such a happy girl!  Her attitude was addicting and she made me realize that I should be doing more fetish style burlesque because that's who I truly am. I love my "Sweet Dreams" routine where I am flogged by the "Dominant" in it.  That's what I need to focus on.  It felt so good to know that there are others who enjoy doing fetish style burlesque in the community.  She told fantastic stories and I left feeling like I was on the right track!
Saturday night was the big event!  The 22nd Annual Tournament of Tease hosted by Nadine DuBois & Scotty the Blue Bunny.  Nadine is a gorgeous, clever, funny redhead who I really adore (we shared a flight from Vegas to Denver and I just think she's fabulous)!!  Scotty had me laughing so hard with his blue humor I was almost in tears!  Debut was won by my friend, Ruby Joule, and I couldn't be happier for her!  She's a lovely performer from Austin with the Jigglewatts.  Best Duo went to 1/3 of the StageDoor Johnnies, Jett Adore, and the sensual Chicago Starlet, LaFrenchie Kiss!  The Peek-a-boo Revue brought the most incredible show onstage with a full band and really earned the Best Troupe award.  Best Boylesque went to Russell Bruner, who did a Charlie Chaplin style routine that was just incredible! At one point he had two people in the audience hold his suspenders & he literally flipped out of his trousers!!
The grand event, the Miss Exotic World 2012, Reigning Queen of Burlesque, was next!  I loved watching people I know perform.  Seeing Coco Lectric perform was so wonderful, I just adore her!  Lou Lou D'vil had me on my feet after her performance.  Ophelia Flame (first runner up) made fire look so sexy.  Trixie Little (second runner up) did the best prop work I've ever seen, finishing her routine with lovely white balloons tossed into the crowd!  The evening's big winner, Imogen Kelly, had the most gorgeous pink peacock costume I have ever seen!  It was so beautiful to see her win the crown.
Eva & I stayed up so late on Saturday night (5am), ending the evening with a little hotel room soiree with Ruby Joule & The DFW Burlesque Mayor, Jerry Fedora.  We slept in very late and, unfortunately, missed the legends panel.  I was pretty upset about missing it but couldn't change it so we decided it was time to hit the pool party!  Wearing my favorite high waisted black bikini and Eva in her sexy red one, we headed down.  Catching a few rays with Black Mariah, who looked really fabulous in her Wonder Woman bikini, and buying a few deep red rhinestoned hair roses from Amber Ray, it was the perfect way to spend a Sunday.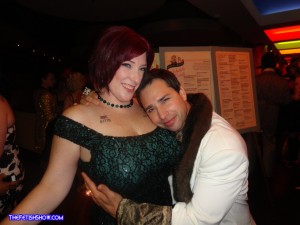 We decided to eat another fancy meal for the last night of the BHoF festivities so we got ready fairly quickly.  Dinner was great (I had the best chicken gorgonzola pasta ever) and we headed to our seats.  Have I mentioned how fabulous our seats were? I don't think I have!  5th row, center… it was like everyone was performing just for us!  Talk about lucky!
The "Icons & All Stars" show was hosted by my Crush, Bastard Keith.  He opened it singing "Try a Little Tenderness" beginning in the back of the audience and working us all up into a burlesque frenzy!  It was the most incredible night.  If you wanted to see the best of the best all in one show, this was the one to see!  WOW!  From Roxie D'Lite to Marinka, Toni Elling to Julie Atlas Muse, the show was packed!  There was a tie for my favorite performances of the night between the fetish, sexiness of Kalani Kokonuts with Lola Frost & Cherry On Top and the bubbly balloon popping fun of Dirty Martini!  The Stage door Johnnies gave me something to remember them by & I'm very excited to be working with them in Oklahoma City in September (more on that in a later article).
The cloud has barely lifted from this delicious, burlesque haze and I'm already ready to get back on that plane to Vegas for next year's event.  I have big news about that so… stay tuned!
…
Apple Angel is the founder and a performer in TNT Burlesque which is based in Oklahoma.  She has been published in numerous magazines (including Bachelor Pad, Retro Lovely and PlayZom) as a pin-up model and is currently accepting modeling assignments through her site www.TheAppleAngel.com.  Apple is regular columnist here at The Fetish Show.