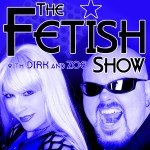 Podcast: Play in new window
| Download
 One of our favorite places on the internet, "Fetlife" makes the Fetish Show News with a debate over whether it is right to reveal the names of possible abusers.  We talk about breast implants and sex.  We cover Fifty Shades, and a nice piece on safe fantasy fulfillment. The Adviser addresses a question sent to Princess Zoe on "Crying" in a BDSM scene. Zoe's tattoo is complete, learn about where it is and how it got there.  Plus, Dirk and Zoe talk about Greece prior to her trip, and we do a little time travel.
Important links for this episode:
Breast-implants-make-better-sex, why?
Fetish-company-responds-to-50-shades-fever, advising-clients-on-safe-fantasy-fulfillment
Credits and Contact
Production Manager: Summer
Engineering: Vanilla Wilson
Hosts and Executive Producers: Dirk Hooper and Princess Zoe
Site: www.TheFetishShow.com
Voice Mail Hotline: 1-888-506-0221
eMail: info@thefetishshow.com
Twitter: @TheFetishShow
Facebook: www.facebook.com/TheFetishShow
Princess Zoe: www.ThePrincessZoe.com
eMail: zoe@thefetishshow.com
Twitter: @theprincesszoe
Dirk Hooper: www.DirkHooper.com
eMail: dirk@thefetishshow.com
Twitter: @dirkhooper
We want to hear from you!