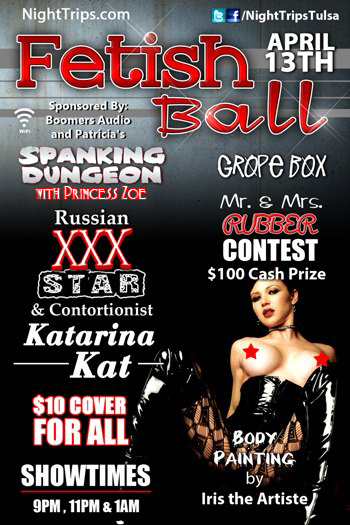 The Fetish Show's own Princess Zoe will be featured in the Spanking Dungeon of Night Trips Fetish Ball on Saturday, April 13th.  One night only, Princess Zoe will be live and ready to add some color to your cheeks from 9pm to close in Tulsa, Oklahoma.
The Fetish Show will be providing full coverage of the event with interviews, photos and videos with host Dirk Hooper.
In addition to Princess Zoe in the Spanking Dungeon, there will be a Mr. and Mrs. Rubber Contest (with a cash prize), body painting by Iris the Artiste and the featured entertainer, Russian XXX Star and Contortionist Katarina Kat.
Showtimes are at 9pm, 11pm and 1am.  Entry is $10.  Night Trips Tulsa is located at 3902 South Sheridan Road.  More information is available at Nighttrips.com or you can call 918-622-3858.