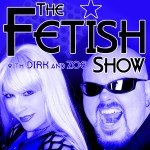 Podcast: Play in new window
| Download
The Fetish Show is proud to be featured in Skin Two, Issue 63.  Princess Zoe is home from Greece and she shares a bit of her experience in Storytime.  By invitation of Master Walker, Dirk attended 'Gathering of the Tribes 2012′ in Dallas, a Regional Leadership Conference with classes designed to support BDSM and Leather leaders across a six state region.  While there Dirk also did a photo shoot with Dallas dominatrix Mistress Daria and was able to visit her dungeon.  Jasmine St. John gives us an interview on recent CARAS events and plans for next year's gathering. Oklahoma is an embarrassment (again…) and Consent Versus Abuse in; The Fetish Show News.
Important links for this episode:
Skin Two
Council of the tribes
http://www.thecounciloftribes.com/
http://gatheringofthetribes.thecounciloftribes.com/
Dallas Dominatrix Mistress Daria
In The Fetish Show News
http://newsok.com/oklahoma-judge-refuses-to-let-men-planning-sex-change-operations-have-feminine-names/article/3710063
http://www.politics.co.uk/comment-analysis/2012/08/08/comment-prosecutors-extreme-porn-and-50-shades-of-grey
Jasmine St. John
BDSM in Greece
Credits and Contact
Production Manager: Summer
Engineering: Vanilla Wilson
Hosts and Executive Producers: Dirk Hooper and Princess Zoe
Site: www.TheFetishShow.com
Voice Mail Hotline: 1-888-506-0221
eMail: info@thefetishshow.com
Twitter: @TheFetishShow
Facebook: www.facebook.com/TheFetishShow
Princess Zoe: www.ThePrincessZoe.com
eMail: zoe@thefetishshow.com
Twitter: @theprincesszoe
Dirk Hooper: www.DirkHooper.com
eMail: dirk@thefetishshow.com
Twitter: @dirkhooper
We want to hear from you!