Dirk Hooper – Host/Executive Producer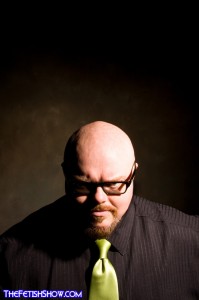 Dirk Hooper is an international fetish photographer, podcasting producer, journalist for the fetish community and expert on personal branding.
As a fine-art fetish photographer, Hooper's work has been exhibited in England, the Netherlands, Belgium, China and all over the United States.  His work is part of the permanent collections of the Kinsey Institute at Indiana University and the Leather Archives and Museum in Chicago, Illinois. Dirk Hooper's artwork has been published in numerous magazines, music CDs, several books and is ubiquitous throughout the internet including the Toxic Goddess website, which he co-founded.
Along with Princess Zoe, Dirk Hooper is the host and Executive Producer of "The Fetish Show," an internet-based multi-media news and entertainment network.  Hooper has been podcasting since 2006 and has produced hundreds of hours of shows over several networks.
Hooper's award-winning website, www.DirkHooper.com features a gallery of his work, informational articles and is the home of "FETISHWEEK," a weekly fetish newsletter.  Hooper has been published as a feature writer, comic writer and even a poet.  Lately, his writing has been focused on the fetish world and BDSM lifestyle as a journalist and commentator, where he draws on his own experiences and observations as a member of that community.
Dirk holds seminars and works as a consultant on personal branding and social networking. He is a member of the National Coalition of Sexual Freedom, the Professional Photographers of America, the National Leather Association and the Individual Artists of Oklahoma.
He enjoys making new connections at the sites listed below.
Email Dirk through this site: dirk@thefetishshow.com
Dirk official gallery site and blog: Dirk Hooper Photography
Dirk Hooper on Twitter: @DirkHooper
Dirk Hooper on Tumblr: http://dirkhooper.tumblr.com/
Dirk Hooper on Google+: Dirk Hooper on Google+
Dirk Hooper on Facebook: http://facebook.com/dirk.hooper
Dirk Hooper on Fetlife: "theDreamKing"